Introducing
Dormitories
Our new guesthouse which is going to come into service this year is composed of 3 blocks and 70.000 m2 indoor space and the dormitories have the capacity of nearly 3.500 students. Our students who will get education in our university can reside in guesthouses which are on the campus.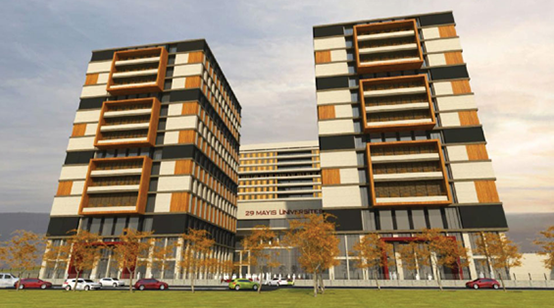 Classrooms
We continue educational operation in classrooms with minimum 5 and maximum 15 students which are located on the same campus with our dormitory which was constructed by 2014-2015 academic year. Computers, projectors and internet access are available in the classrooms. The classes are boosted by various visual and audial tools.
Class Material
Various course books oriented to four basic language skills (reading-writing, listening-speaking) alongside Common Turkish learning sets are utilized in teaching. Supportive course material prepared by our instructors is handed to the students additional to course books.
Library
Our library is in service in order to support educational and research activities with 50.440 books, 5.606 periodicals and electronic resources belonging to 571 various magazines until 22:00 every day. Besides, our students and lecturers can benefit from the services İSAM library located on the same campus on the basis of corporal agreement between The Centre for Islamic Studies (İSAM) and our university.